GPS for Lorry Navion S8 PRO Special Truck 8 Inch 4G with Dashcam Waterproof IP67 and Anti-fall Case
The Navion S8 PRO Special Truck is an intelligent GPS navigator with Dual SIM 4G designed for trucks, featuring a multitouch capacitive 8-inch touch screen. In addition to automatic lighting control, this navigator incorporates advanced logistic integration features such as NFC, G-sensor, Lora, light sensor, and video input compatible with the Navion Blackbox Remote security camera system. The Full HD camera records incidents while driving, which can be used as evidence in case of accidents. It comes with free lifetime map updates that can be downloaded from the device itself and a 3-year warranty.
WARRANTY up to 5 years. Enjoy a European WARRANTY with unlimited services.

WE PLANT A TREE WITH YOUR NAME FOR EACH PRODUCT. Every time you buy one or more NavionTruck products, we plant a tree for you.
Possibly the world's best 8-inch GPS
Discover our advanced GPS navigation system specifically designed for trucks, with logistics features that optimize your business experience. With our extensive database, you can effortlessly find any destination without additional tools or complications. Download maps from around the world and easily keep them updated via Wi-Fi or 4G connection, without relying on the internet during your journeys. Moreover, our GPS navigation is completely independent, allowing you to use multiple applications simultaneously, such as Dashcam or music players, while navigating for hours thanks to the powerful battery capacity. Trust our robust system and enjoy a seamless, connected driving experience.
8-Inch Display
The ultra-bright 8-inch touchscreen display of the device offers an exceptional visual experience with an impressive resolution of 1280x800. With direct access controls to volume, applications, and home screen, you'll have full control over all the functions and features of the device. Whether you're navigating maps, playing multimedia content, or using specific applications, the 8-inch display provides all the necessary capacity to enjoy an interactive and immersive experience. Its precise touch response and brilliant illumination ensure clear and sharp viewing in any environment, allowing you to easily access the information you need while staying focused on the road.
More autonomy time
The high-capacity 6300mAh battery provides you with up to 6 hours of continuous device usage, even when utilizing all available functions and resources. From GPS navigation to enjoying multimedia content during your moments of rest, you'll have more than enough power to make the most of the device. Additionally, we've thought about your long-term convenience by designing an easily accessible battery compartment that allows you to swap batteries quickly and effortlessly. This way, you can extend the lifespan of your device without worrying about running out of power during critical moments. Enjoy a seamless experience and rely on the durability and versatility of our device, thanks to its powerful battery and the option for easy swapping.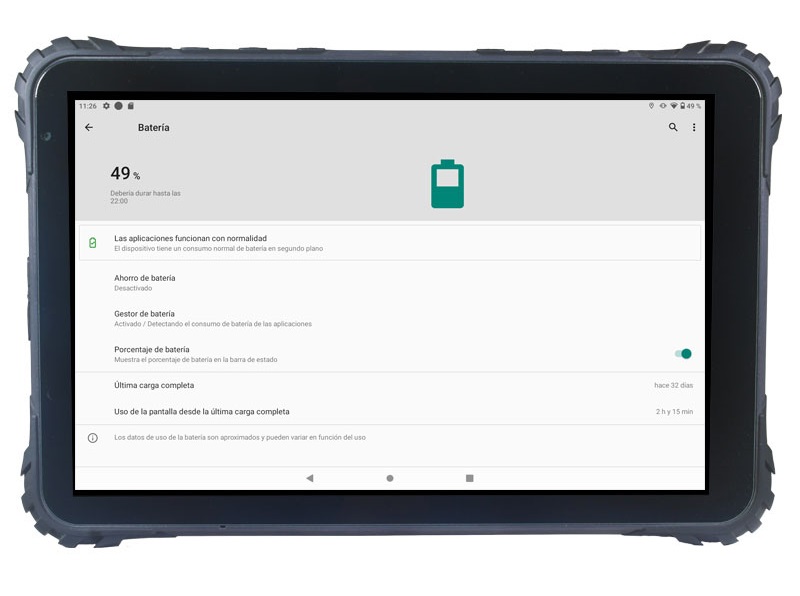 Intuitive menu
In the Navion S8 Special Truck, we offer you everything you need in a fast and convenient way. With our strategically placed shortcuts, you'll have all the essential functionalities at your fingertips. Customize the device according to your personal preferences and access your favorite applications in just one step, without wasting time or effort.

Moreover, with our intuitive system, you'll have complete control over everything happening around you from a single interface. Whether you're monitoring GPS navigation, managing logistics applications, or staying connected with your business devices, everything will be within your sight and just a few taps away.

In the Navion S8 Special Truck, we have thought of making your life easier and enhancing your navigation experience. Don't waste time searching for functions in different places; everything is designed for you to efficiently carry out your tasks without complications. Enjoy total and personalized control in one place with the Navion S8 Special Truck.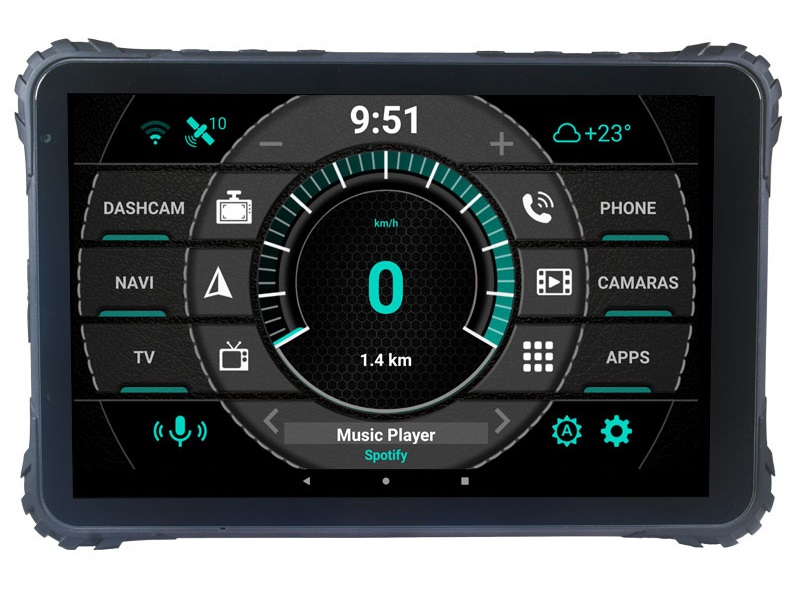 Customizable interface to your liking
Personalize your experience to the fullest with the Navion S8 Special Truck. You choose what to see and how to see it. With our wide range of configurations, you'll be able to tailor the device to your exact preferences. Some of the options you can adjust include indicating your truck model or even adding your own logo, displaying the number of available satellites, checking the outside temperature, verifying Wi-Fi or mobile network coverage, directly accessing your favorite applications, controlling music players with playback information and functions, adjusting the volume, using the microphone, and customizing shortcuts to your preferred applications with text and icons. Additionally, you'll have full control over the screen brightness to adapt it to your needs.

With the Navion S8 Special Truck, you can create a unique and tailored experience to your specific requirements. Enjoy the freedom to customize every aspect of your device and make the most of all its functions.
Wireless TV Capability
Immerse yourself in the world of limitless television with the Navion S10 Special Truck. Our system offers you the possibility to connect with other devices from our brand, such as the Navion DVB-T Digital TV antenna, to enjoy television anywhere completely free of charge. With this antenna, you can tune in to channels from any country as if you were in the comfort of your own home, without the need to use internet data.

Imagine having access to a wide variety of TV programs and content, without geographical restrictions or additional charges. With the Navion S10 Special Truck and our TV antenna, you can enjoy your favorite shows wherever you are, without worrying about the availability of internet connections. Experience uninterrupted television and no additional costs with our digital TV antenna system.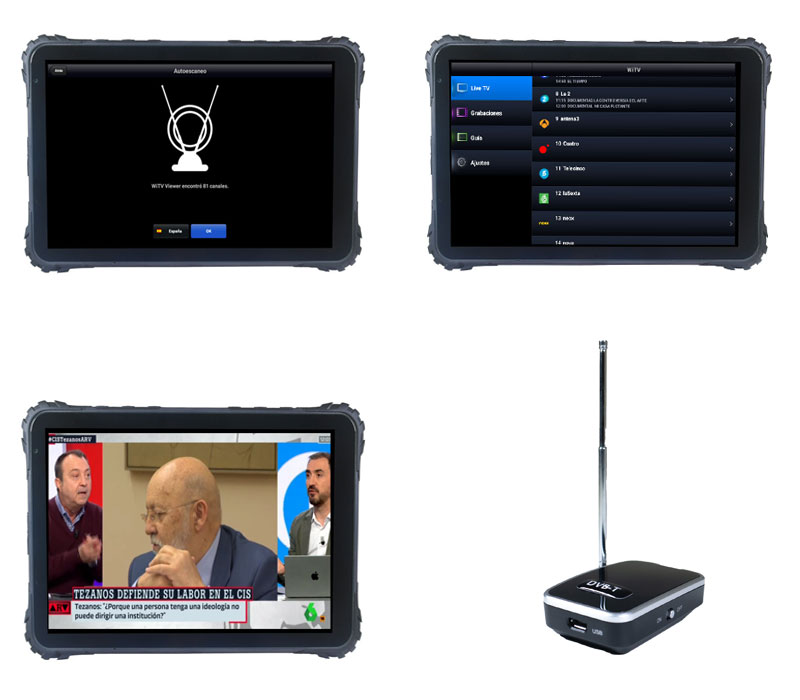 4G data connection
We have taken GPS navigation functionality to another level with the Navion S8 Special Truck. Thanks to the integration of a 3G/4G data module, you can now use our device as a true smartphone. This means you can make calls and use messaging apps like the popular WhatsApp.

But that's not all. This innovative feature also allows you to have remote connections from anywhere, expanding your options to access the internet even in areas where Wi-Fi connections are not available. You no longer have to worry about lack of connectivity, as our device is compatible with data cards from any mobile network provider. This gives you the freedom to choose the service provider that best suits your needs.

Imagine the convenience of having all the functions of a smartphone integrated into your GPS navigation device. Now you can stay connected at all times, make important calls, and communicate with your colleagues or loved ones seamlessly. With the Navion S8 Special Truck, connectivity is guaranteed no matter where you are.
Connectivity designed for logistics
The Navion S8 Special Truck is designed with the connectivity and versatility you need for your business. With its wide range of connections, you'll be able to link devices and key tools in your logistics operations.

From remote connections to tachographs to the ability to use third-party applications, our device provides you with all the necessary tools to facilitate the work of drivers. Additionally, you can integrate security cameras, temperature sensors, schedule controls, and access the device through NFC technology.

USB connections through the USB Type-C port, NFC technology, and the powerful 16MP camera with flash provide you with even more functionality. You'll be able to scan deliveries, monitor merchandise pickups, and manage payments directly from your device.

With the Navion S8 Special Truck, you'll have all the necessary connections to optimize your logistics processes and improve efficiency in your company. Don't miss the opportunity to take advantage of all these benefits and take your business to the next level.
Dashcam FullHD 1080p Camera
We have enhanced our system with the addition of a high-quality camera specifically designed to capture traffic incidents. Its advanced impact sensor ensures that traffic events are securely stored and can be accessed later, including precise information about the incident's location.

Our camera can record in the background, allowing you to continue using other device functions without interruptions. Additionally, you can configure the duration of recorded videos according to your preferences. The system also has the ability to automatically delete irrelevant videos, freeing up storage space for new events.

To ensure optimal performance, we have developed an intelligent solution that assigns defined storage blocks exclusively for the Dashcam, avoiding interference with other applications. Our Dashcam software manages the stored videos and deletes them when the defined capacity approaches its limit, ensuring that you always have space available for new recordings.

With our Dashcam, you will have the peace of mind of having high-quality recording of traffic incidents, backed by efficient storage management. Don't miss the opportunity to enhance your road safety with this innovative addition to our system.
Waterproof and shock-resistant
We have developed the Navion S8 Special Truck with the demanding conditions that truck drivers face in their daily work in mind. This device has been specially designed to withstand potential drops and impacts during its use in logistics environments and challenging situations outside the cabin.

We understand that truck drivers need a reliable and rugged device that can accompany them in all their tasks, regardless of the adverse conditions they encounter. That's why we have created the Navion S8 Special Truck with durable materials and a robust design that ensures its resistance to impacts and drops.

Whether it's on uneven roads, difficult weather conditions, or demanding work environments, our device is prepared to withstand the most extreme situations and remain reliably operational. You can trust that the Navion S8 Special Truck will withstand any challenge you face during your logistics duties.

No matter how demanding your work environment is, our device is designed to withstand it and provide you with the necessary confidence to carry out your tasks without worries. Trust the Navion S8 Special Truck to deliver exceptional performance and unparalleled durability throughout your workdays.
Product Accessories
Suction Cup Mount
High grip for the windshield to prevent falls.
MicSD NavionTruck
External 32GB Micro SD memory card, Class 10, manufactured by Kingston, with pre-installed maps and Micro SD card adapter.
12/24v USB charger
High durability and efficiency with dual charging input.
220v charger
High quality and durability
Data cable
High-quality USB Type-C data cable.
GPS Mount with Video Connection, Interfaces, Micro USB Charging, and Direct Power Supply
Allows connection with external Dashcam, external cameras for fixed installation of power to the vehicle.
Mounting Screws and Accessories
Everything you need to install the device
User manual
User manual for multilanguage navigation.
3-year Warranty
Enjoy a FULL 3-year warranty. The warranty includes round-trip shipping to our Service and Repair Center.
Data sheet
Measures MM:

210x136x15

Device language

German, English, French, Italian, Spanish, Hungarian, Polish, Portuguese, Romanian, Danish, Bulgarian, Croatian, Czech, Dutch, Estonian, Finnish, Irish, Lithuanian, Slovak, Swedish…

Compatibility

It is compatible with third-party navigation apps, logistics tools and tachographs

Waterproof:

IP67

Operating System:

AOSP Smart Truck

Processor:

MTK Platform 2GHz Octa Core CPU

RAM:

4GB DDR4

ROM:

32GB

Micro SD:

32GB

Mobile data:

4G

RJ45

YES

WiFi:

YES

Bluetooth:

YES

Gyroscope

YES

G-sensor

YES

Lora-sensor

Compatible with high-precision temperature and humidity control devices

TV:

Compatible with TV antenna (Navion DVB-T)

Battery capacity

8000mAh

Battery Life:

7 días en reposo y 6 horas en uso de GPS

Weight:

540gr

OTG

You can connect a USB stick with an OTG adapter

Plug:

USB-C

Headphone:

YES

Screen Size:

8 inches

Screen Resolution:

1280x800

Dashcam

YES (1080P)

Camera

16Mpx

Flash

YES

Parking camera

Compatible with recording and viewing cameras (Navion Blackbox Remote)

Display Type:

Capacitive

Text Editor:

YES

Player Text:

YES

MP3:

YES

MP4:

YES

You can download maps from all over the world:

YES

Points of interest:

More than 1 million points of interest (gas stations, warehouses, companies, industrial estates, car parks, service areas, toll collect, car parks...)

Preinstalled Maps:

All the countries of Europe: EU 45 + Russia, Morocco, Turkey

Nano SIM

x2
You might also like
Stay ahead of the fashion trends with our new selection.